The One who Turned My Life Around…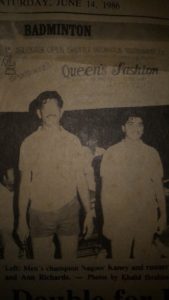 I have shared this with a few… it is something that is very very close to my heart… and I want to do this to acknowledge the 1 man who is responsible for shaping a huge part of my life.
I will forever be indebted and grateful to Mr Nagoor Kaney, who for many, was my Badminton coach, but for me, he was like my father and did not just teach me Badminton… He taught me Life.
I was 10 or 11 years old… was an incredibly volatile kid… constantly getting into fights and arguments. At home, school… In short – A problem kid.
I happened to take up Badminton around then and quickly found a way to channelize my anger. It was all on the court and on the opponents!
Very soon, I became the top junior player in Abu Dhabi and at 12 started competing with men. The anger was still there. I hated losing.
Then Nagoor – an ex Sri Lankan Badminton player started coming to the club and playing. His style and game was so different! He was easily one of the best badminton players in Abu Dhabi.
I used to stay late evenings just to watch him and the top players play and secretly wished that I could play with them and learn from him.
When I used to play, I used to keep one eye on the shuttle and another eye on him, constantly checking if he was watching me. One day, I mustered all the courage that I could, walked up to Nagoor and asked "Sir, can you coach me?" He just smiled, patted me on the head and walked away. I have no idea what he meant by that, but him smiling at me and patting me on my head meant a lot. I couldn't sleep that night.
Then I played a men's tournament, where I lost to one Mr. Aravind 15-2, 15-2. After the match, I went and sat in a corner, head down, just about managing to hold back my tears.
"Young man" I heard a voice, and as I raised my head to see Nagoor in front of me, I Immediately stood up and looked at him, trying to hide my tears, trying to be brave.
He said " I want to coach you. Do you want me to coach you?"
I cannot remember what happened next but I guess I must have been in a happy trance, because what I can remember next were the daily morning and evening trainings, runs, skipping (Ala Rocky style!), court work, shadow work, shuttle runs .
Every evening, after school, he used to train me in the my father's company club. He said that I must learn to play like the Chinese – hit hard, move fast, jump and play! Within a few months, I was hitting harder and more powerfully than most men!
I improved rapidly – just to give you an idea, the gentleman that I had lost to – Mr. Aravind, now lost to me 15-0, 15-1… all this in a span of 2 months.
Training with Nagoor for Badminton is something I will never forget, but What I am even more grateful to him for are the chats we used to have after training. He used to ensure that I was exhausted and tired and then he used to treat me to a juice or chai (Khan Chacha used to keep the facility open just for Nagoor and me). It was those chats that started changing me as a person. He would share his inspiring stories and the importance of respecting my opponents, respecting people, giving your best at all times, fighting till the end, learning to lose and learn from losing. The importance of being a good human being.
I started changing. I could feel it. Fighting with others did not matter any more. I would fail and come back on court with even more drive. Being excellent at the game drove me and being a good person, drove me even more.
Within a year, I went on to become one of the top 10 men's players in UAE.
Oh one more thing… he never charged me! He used to get his shuttles and spend his time with me. Not one dirham!
It has been over 30 years since I have seen or spoken to Nagoor. I still think of him and the difference he has made to my life and I will forever be grateful to him.
Since my late teens, I have always wanted to give back to the sport that has made such a huge difference in my life and more importantly be able to share it with others in the way Nagoor taught me – with strong values.
I feel blessed that life has given me opportunities to work with some of the best Badminton players in our country… hopefully paying it forward. It is my way of giving back to the sport and more importantly to Nagoor.
In the picture above… Nagoor is on the left and the morose looking kid on the right is me. (lost to him in a final yet again!) 
😀
Thank you Nagoor
I may sound dramatic.. but you saved my life.
Cheers,
Ashlesh