Founder & Director of Tamara; Occupational Therapist & Parent.
"Its been an amazing experience since venturing into the Neoway NLP program! I realize that I have become a much calmer person! Surprising and funny, since the program I did was to help me in helping others, especially, some children in overcoming their challenges!! So I guess, I just got a double bonus! It worked on me, for free!!! NLP has opened newer avenues like never before for me, both professionally and personally. I must thank Ashlesh, Monica and the entire Neoway team, including my batch mates for making this experience so life-altering! Way to go guys, I am your fan for life!!"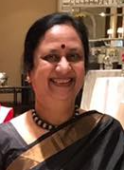 Director - ​SanGun Training & Consulting Pvt. Ltd.
"The best decision I have ever made in my life is to sign up for the NLP practitioners course at Neoway Academy, Blore, India. It was way back in 2009. The programme changed the course and quality of my life. I learned to be calm, positive, happy, and aware of myself and the surroundings with more precision. I then decided to do the Masters with Neoway. It really brought the best out of me. I learned to heal my body, mind and soul and I noticed a new person emerging. Today, I use NLP in all spheres of my life. I have healed my physical problems and continue to do so. All this has been possible because of NLP and the master magician behind it, Ashlesh. Neoway has a great team and my journey with them has been wonderful.
I would say, Go for it guys ."