The Neoway NLP Practitioner Certification Program is a 7 day life transforming nlp certification program that Ashlesh has been conducting for over 15years. It is designed to enable participants to fully understand and practice the skills of NLP in their professional and work situations as well as for their own growth, development and personal achievement. Participants learn to use NLP in their life and to work with others.
The NLP Practitioner Certification Program is essential for anyone serious about truly fulfilling her or his potential. People all over the world undergo training in NLP to give them the required edge. You may be an executive, student, businessperson or a homemaker. It will benefit everyone from a recent graduate to a top executive, irrespective of profession or discipline.
Experience DRAMATIC, POSITIVE CHANGES in the way you think, feel and act.
Access being your BEST  IN MOST SITUATIONS.
See and hear more efficiently as you ENHANCE YOUR SENSORY ACUITY.
Learn to SHIFT YOUR THOUGHTS and CHANGE BEHAVIORS.
Accelerate your ability to LEARN RAPIDLY.
Become a more FLEXIBLE AND POWERFUL COMMUNICATOR.
Remove the emotional charge and BE FREE from unpleasant memories.
BREAKTHROUGH limiting beliefs and fears.
Create and BUILD BETTER RELATIONSHIPS.
RESOLVE inner conflict.
Create clear and empowering GOALS.
Design the LIFE YOU WANT.
LEARN NLP TO TRANSFORM YOUR LIFE & EMPOWER OTHERS!
Program Content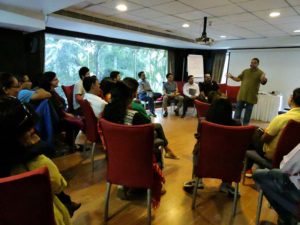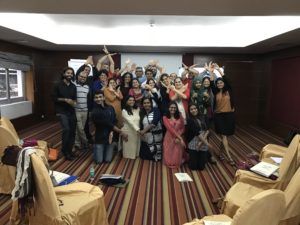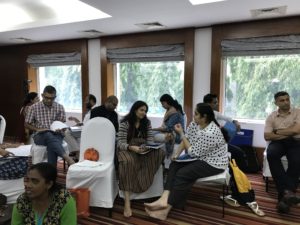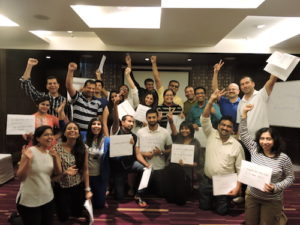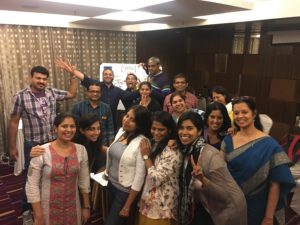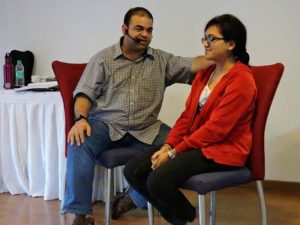 Program Dates
28 Sept - 04 Oct, 2019
18 Jan  -  24 Jan, 2020
Program Venue
Hotel Southern Star, Lavelle Road, Bangalore
Program Timing
9am to 6pm
Program Fee
INR 40,000 + 18% GST
Certification Fee
An additional fee of INR 3800 for NFNLP, USA Certificate.
Total Fee

INR 51000
The Net Course Fee includes
1. Training Program for 7 days
2. Extensive Course Manual
3. Lunch and two time tea/coffee for the 7 days
4. 30 days NLP in Action videos & Whatsapp group support to practice the skills after the program
5. Certificate from NFNLP,USA and GST
For September 2019 Program
Register by July 20, 2019
Program Fee: INR 29,500 + 18% GST + INR 3800 (Certificate) = INR 38,610
For Jan 2020 Program
Register by July 31, 2019
Program Fee: INR 26,500 + 18% GST + INR 3800 (Certificate) = INR 35,070
Upon successful completion of this course, one will be certified by the National Federation of Neuro-Linguistic Psychology, (NFNLP) USA as a "Basic Practitioner of Neuro Linguistic Programming".
"I attended the Neoway Practitioner Program with Ashlesh and his team. The program was an exceptionally intense experience in exploring my inner strengths and power. By the time, I completed the training I had discovered more about myself in 7 days than I knew in my entire life. The outcomes of the training and the results since continue to amaze me day on day in both my personal and professional life. I now truly believe that anything is possible for me. Thanks Neoway for the huge difference you have made to my life."
Rachel Mendonca
Executive Coach

"The best decision I have ever made in my life is to sign up for the NLP practitioners course at Neoway Academy, Blore, India. It was way back in 2009. The programme changed the course and quality of my life. I learned to be calm, positive, happy, and aware of myself and the surroundings with more precision. I then decided to do the Masters with Neoway. It really brought the best out of me. I learned to heal my body, mind and soul and I noticed a new person emerging. Today, I use NLP in all spheres of my life. I have healed my physical problems and continue to do so. All this has been possible because of NLP and the master magician behind it, Ashlesh. Neoway has a great team and my journey with them has been wonderful.
I would say, Go for it guys ."
Geetha Rao
Director – ​SanGun Training & Consulting Pvt. Ltd.